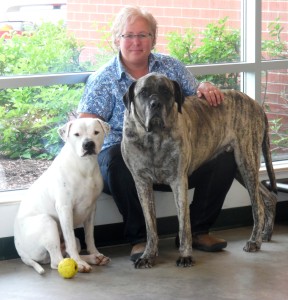 Paws and Claws was started in 1997 as an all-breed professional pet grooming salon, on the north side of I-94. In June 2005 they moved to a new location on O'Neil Road.
Tari Nestrud took over Paws and Claws in September 2005, expanding the facility to over 5000 square feet and adding pet daycare, overnights and training with an expansion in 2014.
Paws and Claws Pet Resort moved to it's new, premier facility located in St. Croix Business Park East (off of Old Hwy. 35) and opened October 19, 2015.
Tari started grooming in 1988 and is a Certified Master Groomer, having taught at two pet grooming schools and has participated in and placed at grooming competitions. Her background also includes former owner of a full-line pet shop, three grooming salons, has taught obedience classes and done in-home training for obedience and behavior modification for over 25 years.
She has shown dogs in breed conformation and obedience, has helped train hunting dogs and competed in AKC Field Trials and Hunt tests for pointing breeds, owning German Wirehaired Pointers for 20 years. Tari enjoys trail riding her Tennessee Walking Horses, Fran and Rory, accompanied by her dogs; Po, a Blue Heeler cross, Grit, a Red Heeler,  as well as spending time around her hobby farm.  She is also the proud parent of two grown children, son Ben and daughter Meg.
Paws and Claws has been a dream come true for Tari and has grown into a much larger reality than originally anticipated, thanks to the wonderful reception it has received from the pets and their owners in Hudson and surrounding communities. 
Paws and Claws expanded with a second location in Stillwater, MN which opened in 2007.  Tari sold that location to a long time employee in April 2014, wishing her continued success.