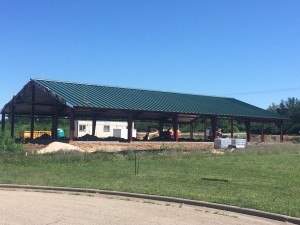 This is the south facing side of the building where there will be FOUR sliding glass doors to the our AWESOME, expanded outdoor play area!
4000 sq. ft. outdoor play area will be SECURELY ATTACHED to the building, allowing pets independent access while playing (weather/temperatures permitting).
Dogs can romp and play in the sun, rain and snow (and sprinkers!), staying clean (no dirt, mud or dead grass) on artificial turf and a patio which can all be disinfected daily for health and safety.